Enjoy a true wireless listening experience, by getting the Snokor iRocker XE15 Bluetooth Earbuds. You can get a total playback time of up to 20 hours via the earbuds and charging case. The Bluetooth v5.0 support not only helps you bid goodbye to cables but also offers a stable connection, making it a delight to listen to your favorite tunes on these earbuds. As the earbuds are made from a skin-friendly material, they can be used for long hours while playing games or binge-watching movies without feeling any discomfort.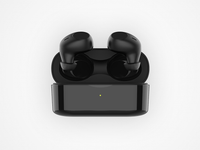 Long Battery Life
Thanks to the 40 mAh battery that's present on each earbud, you can get up to 4 hours of playback time or calling time. A fully recharged charging case, with a 300 mAh battery, can recharge these earbuds up to 4 times. Which means that you can enjoy a total of up to 20 hours of playback time. The earbuds can be fully recharged in about 1.2 hours and the charging case takes about 1.5 hours to charge fully.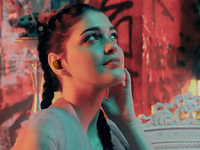 Powerful Bass
The Snokor iRocker XE15 earbuds come with Hi-Fi (High-fidelity) speakers and dynamic bass boost drivers which deliver clear audio and powerful bass, taking your aural experience to the next level. These earbuds also come with a diaphragm that is made from high-quality materials, such as titanium and graphene. You can enjoy a thrilling audio delivery every single time as the vocals are delivered clearly in low, mid, and high frequencies.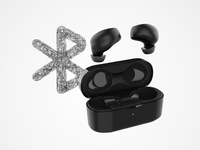 Easy Connectivity
These earbuds support Bluetooth v5.0, so you can enjoy an enhanced range and stable wireless connection even in crowded places. With these Bluetooth earphones, you can take advantage of the HD calling feature as well. Furthermore, as these earbuds support Bluetooth v5.0, it makes them energy-efficient as well.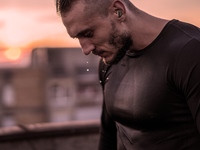 Sweat- and Splash-proof
You can carry on with your workouts while listening to your favorite albums without worrying about sweat droplets or water splashes damaging these earbuds as they come with an IPX4 sweat- and splash-proof rating.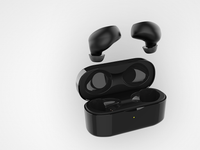 Quick Pairing Capability
Once these earbuds have been paired with your device, you don't need to pair it again. Just take it out of the charging case and these earbuds will get connected to your paired device within 2 seconds. Moreover, as the earbuds come with independent chip designs, you can easily use them in the single mode or the double mode.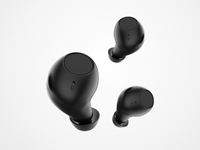 Ergonomic Design
Featuring a Goose egg design, these earbuds offer a 3-point contact so they can fit securely in your ears. Also, they are constructed using a skin-friendly PU material and titanium coating, making them comfortable to wear even for long hours. Each earbud weighs about 4.6 g, making them lightweight and easy to use. The magnet inside the charging case and the earbuds make it easy to open and close the case.
Perfect for Sports
The Snokor iRocker XE15 earbuds can be worn when you're running, jogging, working out, or playing any other sports as they offer a snug fit. They will stay put at all times, making them perfect to flaunt, anytime and anywhere.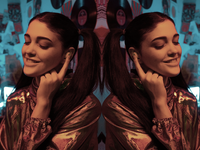 Button Control
Thanks to the multifunctional button control on these earbuds, you can easily change tracks, play/pause the music, answer calls, and do more with just a few presses. To play/pause a song, you can press the button once. Double click the button to switch to the next song and triple-click to go to the previous song. If you're getting an incoming call, you can press once to answer the call. If you want to reject the call, you can press and hold the button. To end a call, you can press this button once again.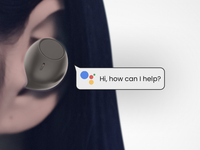 Voice Assistant
You can activate Google Assistant on these earbuds even without having to activate it from your smartphone. Press and hold the multipurpose button on either earbud for about 2 seconds to activate Google Assistant on your Android phone and Siri on your Apple device.
Specifications
General
| | |
| --- | --- |
| Model Name | |
| Color | |
| Headphone Type | |
| Inline Remote | |
| Sales Package | 1 Pair of Earbuds, Charging Case, USB Charging Cable, User Manual, 2 Pair Ear Caps |
| Connectivity | |
| Headphone Design | |
Product Details
| | |
| --- | --- |
| Sweat Proof | |
| Deep Bass | |
| Water Resistant | |
| Monaural | |
| Carrier Frequency | |
| Driver Type | |
| Headphone Driver Units | |
| With Microphone | |
Sound Features
| | |
| --- | --- |
| Sensitivity | |
| Impedance | |
| Minimum Frequency Response | |
| Maximum Frequency Response | |
Connectivity Features
| | |
| --- | --- |
| Bluetooth Version | |
| Bluetooth Range | |
| Battery Type | |
| Battery Life | |
| Battery Capacity | |
| Charging Time | |
| Play Time | |
What is MrDeal Renewed?
MrDeal Renewed is a one stop destination for you to buy quality unboxed or refurbished selection across products like smartphones, computers, video games, kitchen appliances and even more products that come with 6 months Seller Warranty.
High-Quality Product
Professionally inspected, tested, and cleaned to work like new by the seller, may have a few visible signs of earlier use.
Backed by a 6-month Seller Warranty
Seller will repair your product or will provide a replacement or refund within 6 months of your receipt in case the product turns out to be defective within warranty period.
Need Help?
Quick support for claims and technical troubleshooting. From 'Your Orders', click on the product and then check section 'How's your item'.
Better for the Planet
Your MrDeal Renewed purchase extends the lifetime of this product and reduces electronic waste
What should I expect to receive with my MrDeal Renewed purchase and in what condition?
All MrDeal Renewed purchases will come with accessories that may be not be original, but will be compatible and fully functional. MrDeal Renewed products will be packaged in either original packaging or in a new and clean cardboard box. Product will be clean and may have a few visible signs of earlier use. This renewed product is also covered under MrDeal.in Return Policy.
What if I am not completely satisfied with my MrDeal Renewed purchase?
We want you to be delighted with your purchase, but if you aren't completely satisfied, you are backed by a minimum 6 month supplier warranty. An MrDeal qualified supplier will provide a replacement or refund within 6 months of your receipt if you are not satisfied. The warranty is in addition to MrDeal's standard return policy.