Charge your smart devices, such as your tablets and smartphones, faster using this powerbank from OPPO. Boasting 12-factor safety assurance and a low-current charging mode, this powerbank helps you make the most of portable charging without compromising on safety, even when you're charging low-current devices. In addition, its 2-in-1 cable (Micro-USB and USB-C) makes the task of connecting devices to it simple and hassle-free.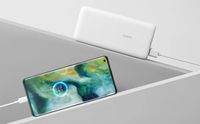 18 W Fast Charging
Featuring 18 W Fast Charging, this powerbank is about 16 per cent faster than ordinary powerbanks when it comes to charging an OPPO Find X2 smartphone to its full capacity. It is compatible with various mainstream protocols, such as PD and QC, among others, and it helps you recharge your smartphone, tablet, and much more.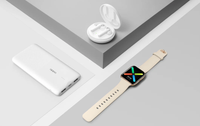 Low-Current Charging Mode
If you need to charge low-current devices, such as an OPPO watch or even TWS headphones, then you can double press this powerbank's button and it will toggle into the low-current charging mode.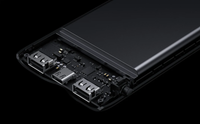 12-Factor Safety Assurance
Its 12-factor safety assurance ensures that it is safe from overheating, output short-circuiting, and input under-voltage woes, among many others.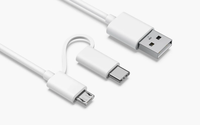 Versatile Dual-connector Cable
This powerbank comes with a 2-in-one charging cable that helps you connect different compatible Micro-USB as well as USB-C devices to it without any hassle.
USB-C portUSB-C port
Its USB-C port takes advantage of 18 W Fast Charging for input as well as output. Thanks to that, you enjoy up to 50% faster charging than the conventional 5 W charging. This helps you charge your devices in a faster and more efficient way.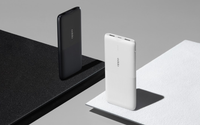 Class Meets Comfort
This powerbank is slim, and it has a lightweight 3D curved shape. To top it off, its fusing panels, along with its touchable matte and ridged texture, make it a treat to the eye.
Specifications
General
| | |
| --- | --- |
| Sales Package | 1 Power Bank, Charging Cable, User Manual |
| Model Name | |
| Suitable Device | |
| Number of Output Ports | |
| Charging Cable Included | |
| Power Supply | |
| Output Power | USB-A(Single Port): 5V 2.4A 9V 2A 12V 1.5A, USB-C(Single Port): 5V 3A 9V 2A 12V 1.5A, Multi-port: 5V 3A |
| Other Features | 18 W Fast Charging, Reverse Charging, 12 Layer of Protection, Charging Protection, 3D Curved Shape, Slim and Light Weight, Overvoltage Safety |
| Width | |
| Height | |
| Depth | |
| Weight | |
What is MrDeal Renewed?
MrDeal Renewed is a one stop destination for you to buy quality unboxed or refurbished selection across products like smartphones, computers, video games, kitchen appliances and even more products that come with 6 months Seller Warranty.
High-Quality Product
Professionally inspected, tested, and cleaned to work like new by the seller, may have a few visible signs of earlier use.
Backed by a 6-month Seller Warranty
Seller will repair your product or will provide a replacement or refund within 6 months of your receipt in case the product turns out to be defective within warranty period.
Need Help?
Quick support for claims and technical troubleshooting. From 'Your Orders', click on the product and then check section 'How's your item'.
Better for the Planet
Your MrDeal Renewed purchase extends the lifetime of this product and reduces electronic waste
What should I expect to receive with my MrDeal Renewed purchase and in what condition?
All MrDeal Renewed purchases will come with accessories that may be not be original, but will be compatible and fully functional. MrDeal Renewed products will be packaged in either original packaging or in a new and clean cardboard box. Product will be clean and may have a few visible signs of earlier use. This renewed product is also covered under MrDeal.in Return Policy.
What if I am not completely satisfied with my MrDeal Renewed purchase?
We want you to be delighted with your purchase, but if you aren't completely satisfied, you are backed by a minimum 6 month supplier warranty. An MrDeal qualified supplier will provide a replacement or refund within 6 months of your receipt if you are not satisfied. The warranty is in addition to MrDeal's standard return policy.