Product Description
Presenting HRX X-Boost 5T – built with a 6-Mode LED light technology, it lights up your mood in rhythm with the music it plays. The Bluetooth 5.0 gives it 2X times faster pairing power and a 4X times wider range. Being sweat-proof and splash-proof with an IPX5 rated portable design, it's ideal for an outdoorsy, active lifestyle.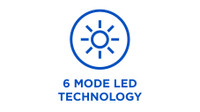 Lights, Music, Action with 6 Mode LED Technology
With mood lighting in red, yellow, green, blue, cyan and purple, its 6-mode LED technology grooves to the music being played and has a total of 6 modes, creating a different ambience each time.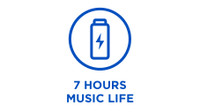 Non-stop Music Play
A state-of-the-art battery and chipset optimize power utilization for all-day battery life. Listening at maximum volume, the battery lasts 5 non-stop hours on a single charge. And at a recommended volume of 70%, it lasts you 7 hours.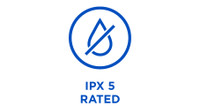 Sweat-proof, Splash-proof and Worry-proof with IPX 5 Rating
As outdoorsy as you, it takes a splash of water in its stride, just as easily as dripping sweat. Designed for music and adventure, it keeps out all worries.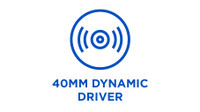 40 mm Dynamic Driver – Crystal Clear Bass and Sound
Powered by a 40 mm dynamic driver, hear the bass and crystal clear notes. Feel the music stir your soul.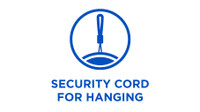 Built for the Outdoors
With a security cord to hang and tag along with you, this speaker is ready for any adventure.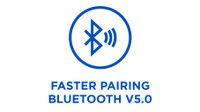 2X Faster Pairing, 4X Wider Range with Bluetooth 5.0
Bluetooth 5.0, compared to its predecessor Bluetooth 4.2, is twice as fast and offers four times the range. Also, its Low Energy Mode leads to better battery life as well as optimized battery performance.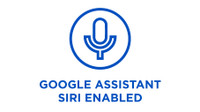 Easy Controls for Siri & Google Assistant
Summon your favourite voice assistant at the touch of a multi-function button. Also, the controls are easy to use for answering/rejecting calls, Play/Pause, previous/next track and volume up/ down.
Specifications
General
| | |
| --- | --- |
| Sales Package | 1 Speaker, Charging Cable, User Manual, Thank You Card |
| Model Number | |
| Model Name | X-Boost 5T with 6 Mode LED Technology Portable |
| Type | |
| Bluetooth | |
| Memory Card Slot | |
| Configuration | |
| Power Source | |
| Power Output (RMS) | |
| Impedance | |
| Color | Black, White, Grey, Orange |
| Wired/Wireless | |
| Outdoor Usage | |
Product Details
| | |
| --- | --- |
| Headphone Jack | |
| Configuration | |
| Memory Card Supported | |
| Compatible Devices | Laptop, Audio Player, Tablet, Mobile |
| Battery | |
| Battery Capacity | |
| Bluetooth | 5 withA2DP, AVCTP,AVDTP, AVRCP, HFP, SPP |
| Bluetooth Range | |
Other Details
| | |
| --- | --- |
| Driver Size | |
| Power Input | |
Dimensions
| | |
| --- | --- |
| Width | |
| Height | |
| Depth | |
Warranty
| | |
| --- | --- |
| Warranty Service Type | For warranty claims or any product related issues please email at support.hrx@flipkart.com or call +91 6366043210 Warranty Support type : Walkin |
| Warranty Summary | 1 Year Limited Domestic Brand Warranty |
| Covered in Warranty | 1) Warranty is Non-transferrable, Valid Only in the Territory of India and Extended Only to the First End User Customer (Customer). 2) Warranty will be Valid Only when the Original Purchase Invoice is Presented at the Time of Service. 3) Warranty will Cover Only Functional Parts and Software Issues having Manufacturing Defects and does Not Cover Damages Resulting from Unauthorised Adaptations/Adjustments/Tampering of the Product, Improper Installation of the Product, Normal Wear and Tear Caused Due to Use of Product. |
| Not Covered in Warranty | 1) Warranty does Not Cover Damage Caused to the Product Due to Improper Installation by Customer; Normal Wear and Tear Caused Due to Use of Product. 2) Warranty does Not Cover Any External Accessories to the Product (Such as Battery, Cable, Carrying Bag etc.) 3) All Plastic, Rubber, Glass, or Aesthetic Parts and Consumable Replacements will be on a Chargeable Basis. 4) All Transportation & Handling Expenses Incurred while Replacing or Repairing will be Payable by the Customer. 5) Warranty shall be Void if: a) The Product is Not Operated as per the Instructions Given in the User Guide, if Any. |
| | |
What is MrDeal Renewed?
MrDeal Renewed is a one stop destination for you to buy quality unboxed or refurbished selection across products like smartphones, computers, video games, kitchen appliances and even more products that come with 6 months Seller Warranty.
High-Quality Product
Professionally inspected, tested, and cleaned to work like new by the seller, may have a few visible signs of earlier use.
Backed by a 6-month Seller Warranty
Seller will repair your product or will provide a replacement or refund within 6 months of your receipt in case the product turns out to be defective within warranty period.
Need Help?
Quick support for claims and technical troubleshooting. From 'Your Orders', click on the product and then check section 'How's your item'.
Better for the Planet
Your MrDeal Renewed purchase extends the lifetime of this product and reduces electronic waste
What should I expect to receive with my MrDeal Renewed purchase and in what condition?
All MrDeal Renewed purchases will come with accessories that may be not be original, but will be compatible and fully functional. MrDeal Renewed products will be packaged in either original packaging or in a new and clean cardboard box. Product will be clean and may have a few visible signs of earlier use. This renewed product is also covered under MrDeal.in Return Policy.
What if I am not completely satisfied with my MrDeal Renewed purchase?
We want you to be delighted with your purchase, but if you aren't completely satisfied, you are backed by a minimum 6 month supplier warranty. An MrDeal qualified supplier will provide a replacement or refund within 6 months of your receipt if you are not satisfied. The warranty is in addition to MrDeal's standard return policy.